Lewis Hamilton hopes Fernando Alonso and McLaren are on course to re-join F1's front-runners in 2018 ahead of the expected announcement that his former team are dropping Honda for Renault power.
As F1 waits on confirmation in Singapore that McLaren are ending their torrid Honda partnership, Hamilton says F1 will be the winner if Alonso, who is expected to stay on at Woking, has a more competitive car-engine package next season.
"I hope that he's got a car to fight with us next year," said Hamilton, while sitting alongside his former team-mate in the Singapore GP Drivers' Press Conference.
"That only adds to the spectacle and challenge. We want to see the best drivers and the best teams up there and it's been a shame not to have McLaren where they historically have been.
"Whether it's with McLaren or whatever Fernando happens to be next year, I hope he has the chance to be fighting with us."
Since Hamilton quit McLaren for Mercedes and sustained race-winning success nearly five years ago, McLaren have failed to win a race and finished on the podium just once in the 91 grands prix since. This year, they are on course to finish a lowly ninth in the Constructors' Championship for the second time in the three years of their Honda partnership.
Although the fact Renault's engines still lag behind those of Mercedes and Ferrari means McLaren are unlikely to return to title contention next season, the team believe their chassis is good enough to challenge long-standing Renault customers Red Bull.
Red Bull have won one race and finished on the podium at half the races this season.
Alonso waiting on McLaren deals
Once McLaren's split from Honda is confirmed, Alonso is likely to agree a new deal to extend his second stint at the team into a fourth season.
McLaren's new Renault deal is expected to finally be announced on Friday, but Alonso suggested news on his future may still be a "couple of weeks" away as he wants the team's future to be resolved first.
However, he promised: "For my fans and motorsport lovers, they will have a fanatic 2018 season.
"The planning is ongoing and very good news is coming."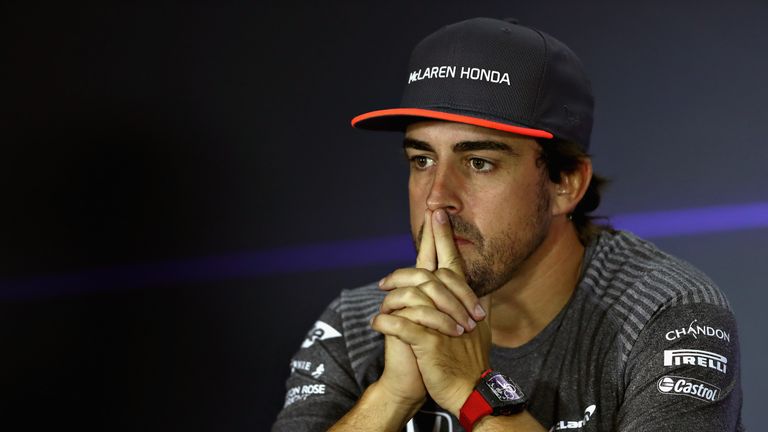 Running parallel to Alonso's ambitions to win F1 races in 2018 is his desire to achieve motorsport's Triple Crown, with wins at the Indy 500 and Le Mans 24 Hours the two legs which remain outstanding.
Alonso skipped this year's Monaco GP to compete at Indianapolis, where he was in victory contention until retiring late into the race, but has all-but ruled out missing F1's showpiece again next May if he is in competitive machinery. Monaco and the Indy 500 again clash next year.
"The Triple Crown is a clear target for me in the future and there are three races there," he said.
"If one of those, the Indy 500, is together with Monaco, as we know, there is another one to complete. But I agree with what Zak [Brown] said, if I remain in F1 it's because I believe I can win next year and so that will make the decision easier because I will be in Monaco and I won't want to lose any points there. The priority is F1 and winning here."
However, the 2018 edition of the Le Mans 24 Hours takes place on the weekend between the Canadian and French GPs and Alonso cryptically added: "The Triple Crown is in the background, not only Indy. There are many possibilities to do a fantastic 2018."
The announcements to expect at the Singapore GP
McLaren are exiting their Honda works partnership
McLaren are joining Renault's customer roster
Toro Rosso are switching from Renault to Honda power
Carlos Sainz is replacing Jolyon Palmer at Renault in 2018